Annual report number 13 + 14: My Success
Back in December of 2004 I started a new life from zero. I was 22 years old without any money, education or connections. I borrowed my mothers computer and started to learn HTML and internet marketing.
Each year I publish an annual report. Earlier reports are linked from the history section in my about page.
---
Personal
Our third child Astrid was born in April 2017 :)
In december 2018 we decided to move to Marbella in Spain and we were there for two weeks and we chose which house to buy. We are currently in the process of selling our house in Täby Sweden. In june 2019 we will move.
We spent the summer of 2018 in Bolivia, living in our house that we have there. I worked some in the office of TodaysWeb Ltda. next to the CEO Staffan. We also did some charity work while we were there.
Selling the SEO business of TodaysWeb
As written in the earlier annual report I left my operational role of TodaysWeb when I moved to Sweden in beginning of 2016 to instead work for my swedish company Jim Westergren AB and Domainstats. Staffan became the CEO.
In April 2018 me and my family went to Malta to negotiate with Game Lounge and a deal was made in which they acquired the whole SEO business and a majority of all assets of the company but excluding N.nu and Redistats. I also became Head of SEO for Game Lounge on a 3 year contract. More details about the deal in my announcement.
Here for the first time ever I reveal just how fantastic the growth of TodaysWeb has been as a company since the start in the end of 2012 until I sold it 2018.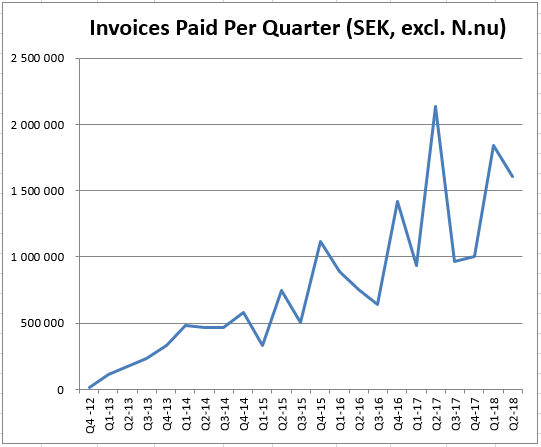 The company Domainstats International AB was registered in February 2017 and I had an investor giving 5 MSEK for 50% ownership. I set up an office in Täby and employed 2 programmers.
In October 2017 we started the major task of rewriting all the ~15K lines of code from procedural code to modern mvc. It was me and 2 other guys but I had to let one of them go in december. This rewrite also involved making a complete new design and setting up 7 new dedicated servers. It took around a year ... but we made it!
What I learned in 2017 when developing Domainstats:
Object Oriented Pogramming.
Programming using the Model–view–controller (mvc) pattern.
Programming using PHP 7.2 with strict types activated, scalar & return type declarations.
Other new things in Domainstats:
November 2018: Lists of available and dropping domains with backlinks.
November 2018: Major improvements to DomainScore, now a really great SEO metric.
November 2018: Lost and broken links for all the domains in your account.
October 2018: We now save and display lost backlinks.
October 2018: Tool for checking broken links.
October 2018: Doubling the crawling speed.
September 2018: Automatic import of drop domains from various sources.
August 2018: Affiliate system.
2017: Payment integration with Stripe and invoice generation system.
2017: Improvements to snappa.se and sökdata.se (they are using the same code)
2017: Account system.
2017: Switching from domainstats.io to domainstats.com
2017: Stefan built the rank tracking.
There are at the time that I write this 8 086 domains connected to N.nu websites which is great.
At the end of 2018 there were 2 swedish companies wanted to acquire N.nu but I turned them down - the future will tell if my decision was correct.
Some of the things done with N.nu during 2017-2018:
Images from images.staticjw.com moved from CloudFlare CDN to CloudFront CDN for better performance.
47 new templates, 45 of those are responsive.
Free https for custom domains.
Better reminder system for unpaid invoices.
Log of the contact form usage.
Automatic system that checks 4 times per day that all connected domains work correctly. Email sent to the owner if any problem.
In my free time I am working on a card game (offline and online) which I started with in july 2018. August started with the online version the 1st of October 2018 and the alpha version should be playable in april 2019.
---
Other posts
About the Author

Jim Westergren is a Swedish web entrepreneur currently living in Spain. He is happily married and has three lovely children. Some of his interests are web development, SEO and writing.
He is the Founder of
DomainStats
and
N.nu
. Read his
full about page
.